The Uncle Bob Guitar Project Recordings
This page contains various recordings of several of the early prototype instruments. We are grateful for the support of the musicians involved and look forward to including more recordings with time.
Videos of all the prototypes with short demos are on the gallery page
The recordings are in MP3 format. Other formats are available; please contact us...
---
April 2010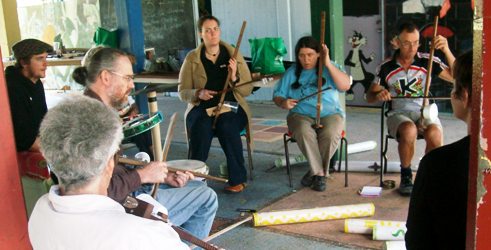 It's been a while but here's a new recording. This is The Reclaimers Street Orchestra starting to look and sound like an Orchestra.
On percussion are Abe and Margaret
On Cello are Ros, Jasper, Michael, Johanna and Gerry
On Viola are Keith and Christine
On Violin are Rose, Kathleen, Charles and Chris.
Multimedia support on this from Vince.
---
October 2008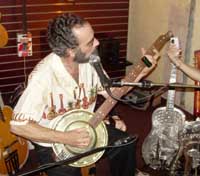 This is a recording of Bob Brozman playing his own "Uncle Bob" Sn 011 which is further featured on the Gallery Page. The recording is from a concert he gave at the Judith Wright Centre in Brisbane Australia on 02 October 2008. Thanks very much for all the support Bob.
---
July 2008
This is a video of Charles doing a "Live-to-Air" on Brisbane Community radio 4ZzZ fm. The song is "Cows Don't Need Religion" and the instrument is 004. Bad lighting in the studio (it was radio) prompted the artistic visual rendering.
---
June 2008
These are a couple of early mixes from an album of songs written by Charles, played on instruments made by Charles.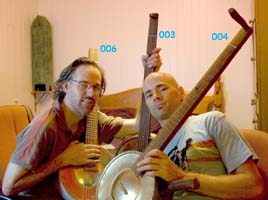 Chris Gillespie is playing 004; a steel string, steel fret prototype and
Charles is playing;

006; a nylon string, nylon fret prototype on Skin on Skin and
003; a steel string, nylon fret prototype on Life well lived.
18th January 2008
These are some unprocessed recordings of a jam session involving Chris Gillespie and Charles Neville.
Chris is playing 003; a steel string, nylon fret prototype and
Charles is playing 006; a nylon string, nylon fret prototype.
---
Back to project home
The Uncle Bob is a CyberFeral Project
---
Early recordings;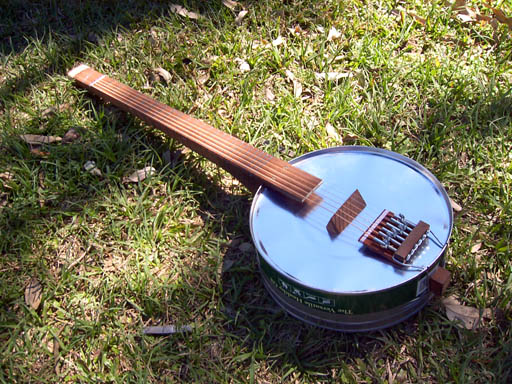 This is the first proof-of-concept instrument; serial number 000; it's a full size guitar design.
Here it's played by the maker; Charles Neville; in an 18 second stroll (290kb).
---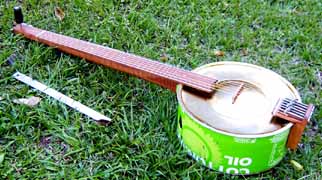 This is 003; another 6 string with Nylon frets.
Here is a verse of the novelty song "Nyik" sung and played by Charles (30 secs 244kb)
---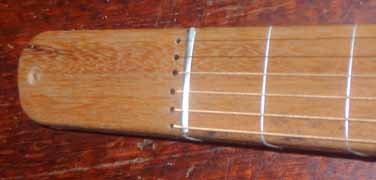 A close up of the steel frets and nut on 004; this has a brighter sound.
Here is a plucking example (17 secs 140kb) and a strumming example (13 secs 104kb) both played by Charles.
Bikijook recordings;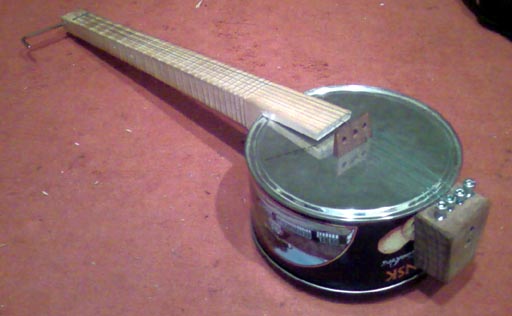 This is the second instrument made; SN 001; a Ukulele configuration owned by Elliot Neville.
This is a 10 second strum (165kb) played by Charles Neville.
Back to project home
The Uncle Bob is a CyberFeral Project