Here I'll attempt to record the progress of the project through it's notable milestones...
January 2009
Grant applications
January was the month I finally learned that I will never be any good at writing Government funding applications. With the aid of Ben Pennings and Danielle Rankin of Reclink, we did get in an application which, if successful will fund the workshops for building and rehearsing the orchestra for Woodford at the end of the year. If you know of anyone who might be interested in working with me on a series of applications over the next couple of years, please get in touch.
New Workshops
Thanks once again to Ben and Reclink, I have some workshops starting this month. One is based in Spring Hill which I'm hoping will form the seed of the Orchestra, and one in The Valley working with "youth at risk of homelessness" building more electric guitars based on a new simplified design which is detailed further in the Gallery.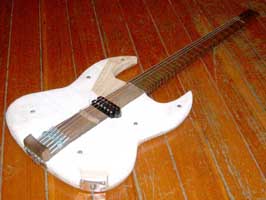 Also in February, I was guest artist at a series of workshops; "Sound Circles"; run by Access Arts based at the Powerhouse in New Farm. This was working with a group of people, some with quite profound challenges and was an exercise in simplicity. I learned a lot about what can be achieved with vey little and would like to commend the activities of Access Arts to anyone interested in this area.
Choir
Keeping me busy on Wednesday's at the moment is "The Transformers", Brisbane's version of the "Choir of Hard Knocks". We've started weekly rehearsals and the voices are really starting to come together. My role in the choir is looking after the PA, playing a bit of guitar and singing Tenor. I'm also involved in some musical extension fringe activities including guitar lessons and song writing. The official launch of the choir is this month and you'll hear much more of it as the gig's start to happen; stay tuned.
Since the New Year, I have made two new instruments, refurbished one and started two in my home workshop in Ashgrove. The new instruments were the Styrofoam electric (pictured above) and a deluxe acoustic Uncle Bob for a private collector in New Jersey (pictured below). Both are featured in the Gallery. The refurbishment was done on Bob Brozman's own instrument which I presented him last year but which he left with me due to airline weight restrictions. I'm expecting this instrument to feature in an article in a major American guitar magazine in the coming months; stay tuned for that as well.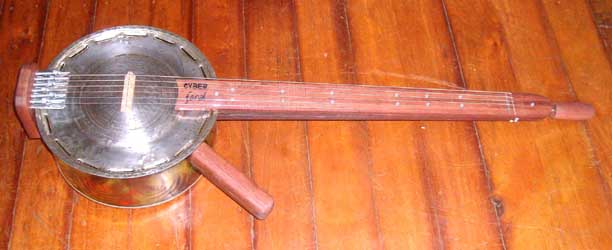 Glenn is also continuing to visit the workshop in Ashgrove, doing some lovely work on his own Uncle Bob. I'm looking forward to the final result.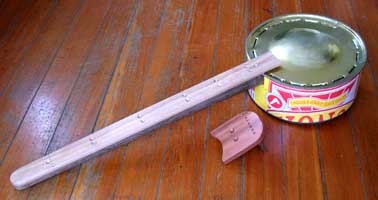 Mic's Visit
My lonely vigil in the home workshop was brightened this week by a visit from the world famous Mic Conway who was on tour in SEQ and dropped in to say hello. I was too cool to take any fan photos of the occasion but I did get him to sign our dinning table. Feel free to come and add your own wisdom to the table if you're in the area…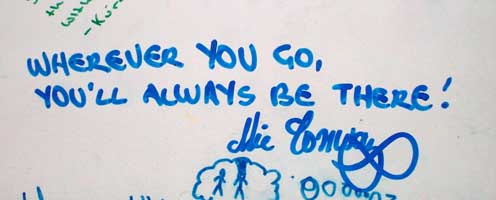 Ideas Festival
Later this month, the Brisbane Ideas Festival is happening and I have been invited to give a presentation on the guitar building workshop. This is a great opportunity, which I'm looking forward to with some trepidation. I really should be working on this presentation at the moment so I'll wish the best of health to you and your loved ones and I'll catch you again next month if not before.
---
Back to Top ---o--- Back to Project Home
---
December 2008
The pilot programs finished on time and on budget with lots of happy participants. I'd like to thank Reclink and Ben Pennings for their help with this. I've included a few pics of some of the instruments and those participants who were happy to be online.
The Redcross workshop, making electric guitars with young people at risk of homelessness, went really well and the Redcross publicity machine swung into action with some great results.
Woodford went well thanks to Luke's assistance and local knowledge. I've included a couple of pics of the light organ in action and I'll be putting up a page specifically for the light organ once I manage to get some decent video of it.
Mic Conway was also at Woodford, playing his very own Uncle Bob in his spectacular stage show. He wanted a modification and some repairs done on it so I set up a workshop in the camping grounds to do it. He was very happy with the result and gave me a big plug on stage. Which was nice.
In other news, Julian is busily working away in his workshop in Frankston Vic. and reports that his 2nd Uncle Bob is 90% complete, Uncle Bob mandolin 50% complete & 12 string Uncle Bob design is 80% done.
---
Back to Top ---o--- Back to Project Home
---
November 2008
Well it's nearly a year since the project kicked off with the release of the prototypes at Woodford Folk Festival and we've come a long way. At the moment we have three pilot projects finishing in the next two weeks. All the instruments are getting close to completion so I've included some "in progress" shots to show how they're going.
The private workshops have had to fit in around the community ones and as yet the out put is low but very high quality. I look forward to showing you all Glenn's new instrument.
As for next year, I've been invited to participate in workshops and panel discussions at next year's Brisbane Idea's Festival; I'll be singing in the Brisbane version of the "Choir of Hard Knocks"; I'll be directing an orchestra to complement the choir; I'll be undertaking an "artist-in-residence" program at Milpera State High and a few other high schools yet to be confirmed.
The rest of the year will be getting ready for this year's Woodford Festival where I'll be playing the support role to my lovely partner Ralphine who is part of Transbalkan Express playing 7 gigs at the festival. I'll also be demonstrating the Human Light Organ with the aid of my partner in klooge, Luke. Lots to do, better get to it...
---
Back to Top ---o--- Back to Project Home
---
October 2008
Another busy month and more to come...

The Communify / Reclink workshops have started and new instruments have begun to appear. The group participants are a combination of people suffering various levels of emotional, intellectual and physical impairment and accompanying support workers. I've had to work up to more complex instruments; we started with clap sticks made from reclaimed banister dowels and we've just completed some Diddley Bows (pictured below). Next week we'll get started on some guitars and ukuleles with the aim of getting them finished for Christmas.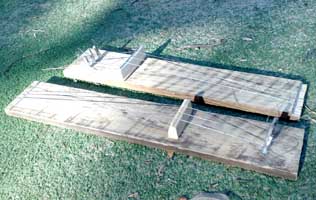 The Brisbane Extra piece went to air and triggered more local interest. The video is viewable here...


Workshops for the Red Cross working with youth experiencing homelessness will be starting in November at Visible Ink.

I was invited to "Futures Day" at Milpera High School in Brisbane. The school caters for newly arrived teenagers and offers intensive language training as well as other support to allow kids to move into mainstream education. It was a real eye-opener and I'm now trying to work out how I can fund myself to spend more time working with the kids there making and playing instruments. I've also received offers from two other local high schools to get involved. This stuff falls outside of Reclink's activities so I'm looking for some help to secure funding through Arts Councils or Education Departments. Let me know if you have any ideas.

I got news this month of the first Uncle Bob guitar built outside of the various CyberFeral workshops. This is from Julian in Frankston, all done from the instructions on the web site. He's done a great job and number two is on the way. Stay tuned for more from this rising star.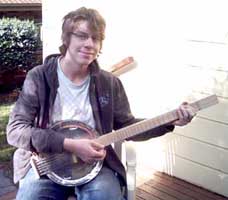 Private workshops started this month in the Ashgrove workshop. Jane and Glenn were the first off the blocks generously donating their time to help me refine the process and tools. Their generosity even extended to morning tea from Jane and a ute full of oil cans from Glenn! Here's Glen getting to grips with the body of his new guitar.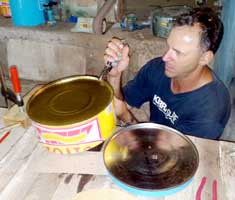 The pictures I'm taking as the private workshops proceed will form the basis of an Instructables page for the guitars. I'm looking for people to get involved in putting the page together so let me know if you're intersted in doing some on-line stuff.
---
Back to Top ---o--- Back to Project Home
---
September 2008
Well things are really starting to heat up and not just the weather.
The pilot workshops are set up and ready to roll thanks to the tireless work of Ben Pennings from Reclink; they'll be held at a couple of community halls in Brisbane's inner west over 10 weeks leading up to Christmas. I'll post outcomes from the workshops and pictures as they come to hand.
There are whispers on the wind about the Orchestra. The Brisbane version of the Choir of Hard Knocks has found a leader and a venue and will be kicking off soon and tentative bookings have been made for the Choir and the Orchestra to play the 2009 Woodford Folk Festival. We've got a lot of work to do by then but it's going to be fantastic.
The New Inventors piece went to air and triggered quite a bit of interest. I'm starting to get recognised which at the moment is still fun, I'm enjoying it a lot.
Channel 9 also came and did a piece for Brisbane Extra which is yet to air; I'll let the list know when I know.
The big news though is the return of Bob. Mr Brozman blew into town with his lovely wife Haley on the 1st and 2nd of October and I was able to present him with his very own Uncle Bob which is No 011 and further detailed in the Gallery. Bob played the guitar on stage at the Judith Wright Centre; making it sound great and saying some very nice things. Please take the opportunity to catch Bob live if you get the chance, he's a truly inspirational musician with lessons for all of us. For further evidence check out his YouTube page.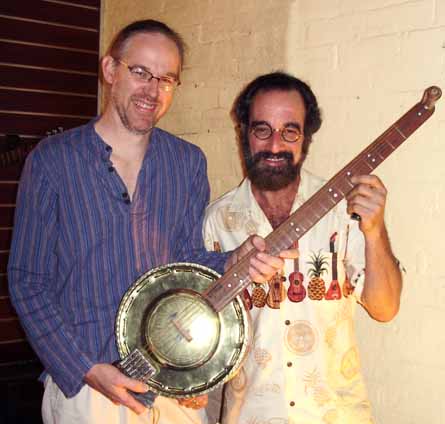 ---
Back to Top ---o--- Back to Project Home
---
August 2008
August has been all about consolidating. The ABC TV's New Inventors programme is in the can and waiting to go to air in early September. Progress on the prototyping workshop has been good and work on new instruments is about to restart. All happy at home and at the end of the month we can see Spring on its way.
July 2008
July was the month things really started to take off.
I had some great media experiences;

Performing on the Anarchy Show on 4ZzZfm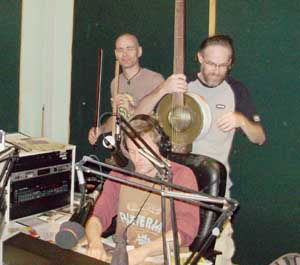 Annoying Alex on his show, the Frog and Peach on 4ZzZfm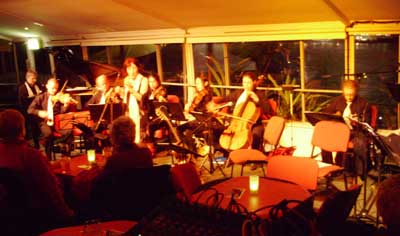 The Tropical Dance Orchestra on stage at the Brisbane Jazz Club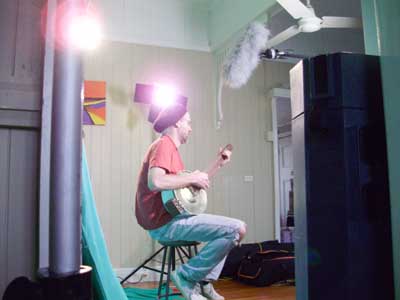 Me getting filmed for the ABC's New Inventors Programme.
On the organisational front;
I had some meetings with the Brisbane City Council and with Reclink Australia and got commitment to begin community based instrument building workshops in the next month or so.
I started a part-time engagement with W J Simon Pierce Organ Builders which is really fuelling my enthusiasm for enormous musical instruments, more on that to come…
I moved into a new house and am setting up a new workshop which will be able to support weekend workshops; people coming and spending two days building their own instruments.
I started a New Enterprise Incentive Scheme which is a programme from the Australian Federal Government supporting new businesses. I'll be setting myself up as a consultant music technologist and the NEIS thingo provides a bit of money each week to reduce the stress of finding the rent as well as a business mentor who's very keen to make sure I don't send myself broke while I make instruments for poor people.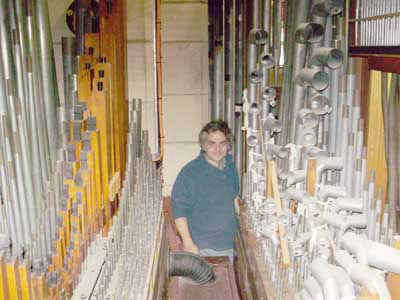 Richard from W J Simon Pierce Organ Builders and part of an enormous musical instrument.
I'm feeling very enthusiastic about the whole project and having no trouble at all getting up in the mornings despite what passes for winter in South East Queensland. Thanks again to all the people helping and encouraging me.

---
Back to Top ---o--- Back to Project Home
---
June 2008
Here is a video of some of the activitiy at the Brisbane Guitar Show...
And here's what the Australian Guitar Magazine made of it...
May 2008
I've sent Mic's guitar (008) to him. He was very pleased with it and paid me more than I was expecting. Hopefully this is a taste of things to come. I've also received sponsorship from a family friend to attend the Brisbane Guitar Show as an exhibiting maker and was accepted by the company promoting it. This is very exciting. I've also had the guitars professionally valued at $495 for the electric model which is encouraging.
I've finished Bob's guitar (007) and will be showing it at the Show.
On the workshop front, my Patroness, Ralph, has been told that her lease won't be renewed and she and all my tools are looking for a new home. I've been talking to a number of community groups and getting lots of enthusiasm but as yet, no actual financial or material support. Better news next month hopefully.
April 2008
After being "promoted" into a job with more responsibilities and the same pay, I've decided to concentrate on the Uncle Bob project and CyberFeral full time. This is causing some concern in my family, as you would expect. I'm working on on Mic Conway's instrument since it's actually a commission and I'm going to get paid for it.
---
Back to Top ---o--- Back to Project Home
---
February 2008
The bodies for the next run are together. These will be for Bob, Mic, Tim, Me and a fiddle for Chris. I hope everyone is happy...
I've posted an application to the New Inventors, I wonder if they'll see the value in an invention that is intended to make no money what so ever?
January 2008
Getting organised with some decent recordings, thanks to my good friend Chris. Offerings appearing on the Sounds Page as they come together.
Also, heard from Mic Conway. His guitar is for his Junk Band and is to be visibly "junky". I'm looking forward to this. It's to be a full scale 4 string; DGBE with acoustic style pickup and preamp. I'll have to dig up some circuit designs from my Tym Guitar days for this one. I'll post them on the Manufacture Page as they coalesce.
Christmas/NewYears 2007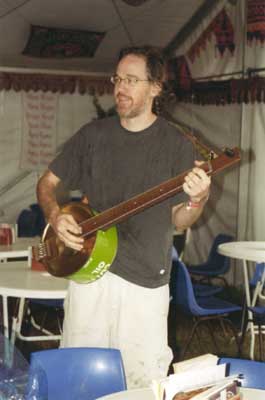 He're me at Woodford singing for my Breakfast in the Hare Krishna tent. Thanks very much to Shyam and Murari for taking the shot and sending it to me. Not having a camera is making this whole project less compelling than it could be. Oh well, we make do...
The festival was fantastic with great enthusiasm from everyone who saw the prototypes including, Bob Brozman, Harry Manx, Mal Webb and Mic Conway (who's ordered one for himself).
---
Back to Top ---o--- Back to Project Home
---
October-November 2007
After most of a year trying to get/keep a job I am "taking a few weeks off" to work on prototypes for Woodford this year. Bob will be there... The result is No's 003-006. I am well pleased with the result. In truth, 006 is finished mere days before the festival.
Christmas 2006
The proof of concept instrument went well and I can't afford Christmas presents for my kids so they are presented with No's 001 and 002... Sounds are on the sounds page.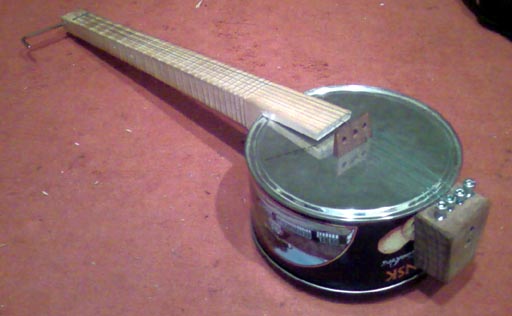 8th September 2006
It's been nearly two years since the first meeting with Bob and tonight he's in town. In a desperate attempt to stay out of bed, I threw together the first prototype and presented it to Bob. The result is fully documented here... We're on our way!
---
Back to Top ---o--- Back to Project Home
---
The Uncle Bob is a CyberFeral Project